| | | | |
| --- | --- | --- | --- |
| Native Instruments announces updated TRAKTOR KONTROL S4 and S2 DJ systems, now TRAKTOR DJ compatible | | | |
Written by Native Instruments
Thursday, 12 September 2013 18:37
Berlin, September 12, 2013 – Native Instruments today announced new versions of both the industry-leading 4-channel DJ system TRAKTOR KONTROL S4 and its 2-channel counterpart, TRAKTOR KONTROL S2. The KONTROL S4 and S2 perfectly combine a premium DJ mixing interface, built-in 24 bit/96 kHz soundcard, and an intuitive interface into a powerful all-in-one DJ system engineered for seamless control of TRAKTOR software. Both units now offer an improved look and feel with added control over the latest TRAKTOR PRO 2 features. Furthermore, both the KONTROL S4 and S2 are now plug-and-play with TRAKTOR DJ – the world's most successful DJ app for iPad and iPhone.
Trusted by countless professional DJs for its unparalleled creative possibilities and supreme work flow, TRAKTOR KONTROL S4 now features a sleek new design with 8 color-coded RGB buttons that trigger and identify loops, cue points, and samples for improved visual feedback. Also upgraded are high resolution jog-wheels which now feature aircraft-grade aluminum plates for increased durability and performance. The advanced Flux Mode feature is now instantly accessible on the KONTROL S4 and S2 via dedicated buttons on each deck, while TRAKTOR PRO 2's Remix Decks controls can now be accessed directly from the units.
Built to the same professional standards as the TRAKTOR KONTROL S4, the KONTROL S2 has also been redesigned with RGB backlit buttons, reinforced knobs, and high-res jog wheels also with new aluminum plates. In addition to offering all core TRAKTOR PRO 2 controls, the KONTROL S2 is now plug-and-play with TRAKTOR DJ, delivering physical control for every function including cue points and Freeze Mode and thus yet again redefining on how to embrace integration between hard- and software. Its compact size, robust build, and innate TRAKTOR DJ integration make TRAKTOR KONTROL S2 the ideal choice for iOS-based DJ setups.
Both TRAKTOR KONTROL S4 and S2 include a full version of the flagship TRAKTOR PRO 2 with Remix Decks® software, opening up a wealth of creative possibilities. TRAKTOR PRO 2 offers powerful cue, loop, and sampling functions, a suite of over 30 effects, pro-grade EQs, and fluid playback control of up to 4 decks. DJs can instantly add live editing and sampling to their sets with the use of TRAKTOR's Remix Decks. Eight Remix Deck slots can hold a total of up to 64 loops or one-shot samples and ready-made Remix Sets from renowned artists are available for instant use.
TRAKTOR KONTROL S4 and S2 also now boast flawless integration with the revolutionary TRAKTOR DJ app for iPad and iPhone. With a 2-channel mixer, 3-band equalizers, and eight professional effects, TRAKTOR DJ brings the quality of TRAKTOR PRO software to the compact and tactile iOS platform. Both units charge connected iOS devices when in use.
TRAKTOR KONTROL S4 will be available at retailers worldwide and at the NI Online Shop for $799 / 799 € / 83,800 ¥.
TRAKTOR KONTROL S2 will be available at retailers worldwide and at the NI Online Shop for $499 / 499 € / 52,800 ¥.
Additional information on TRAKTOR KONTROL S4 and TRAKTOR KONTROL S2 is available at:
www.native-instruments.com/traktorkontrols4
www.native-instruments.com/traktorkontrols2
| | | | |
| --- | --- | --- | --- |
| Limited Edition Coloured Korg Keyboards | | | |
Written by Korg
Friday, 06 September 2013 16:31
Check out Krome in three very limited edition colors: red, blue and gold! Available at select retailers in November, 2013.
On Stage. On the Go. On Top.
Offering full-length, unlooped samples of every key for a spectacular piano sound, this new keyboard redefines your expectations for an instrument in this class. Taking its name from the Greek word meaning "color," Krome is the new standard for sonic excellence in a gigging musician's keyboard, providing a limitless palette of sound to bring vivid inspiration your music. Introducing the Krome Music Workstation.
Product Highlights:

The Korg workstation ideal for any style of piano playing

Kronos-derived full length, unlooped piano and drum sounds, plus new electric pianos designed to shine on stage

Electric pianos with eight-level velocity switching for unmatched expressive power

Clear, intuitive control with Korg's exclusive 7-inch color TouchView™ display

Drums offering separately mixable direct and ambient sounds for studio-grade quality

Drum Track plays back realistic, inspiring grooves at the touch of a button

Expertly created, in-demand sounds including 640 Programs and 288 Combinations

Powerful Effects with 5 Inserts, 2 Master, and 1 Total FX, plus per track/timbre EQ

Distinctive aluminum panel design exudes a sense of quality

USB connection to your computer, plus an SD Card slot for data storage

You can use the Krome editor to edit sounds on your computer


Available in 61, 73, and 88 key models.

In addition to Korg's well-proven workstation features, Krome features a carefully chosen selection of the top sounds available today for bread-and-butter keyboard instruments such as piano and electric piano, as well as vital and dynamic drum kits, giving you the best of the basics. These highly usable piano, electric piano, and drum sounds by themselves set Krome apart from any other keyboard in its class. With sound quality and features normally found in much more expensive instruments, Krome aspires to set a whole new value standard, and become a unique and irreplaceable partner for real-world musicians.
Limited edition Krome models in red and blue can be found in December at select, authorized Korg USA dealers - and gold models at U.S. Guitar Center locations - for $999.99
Last Updated on Friday, 06 September 2013 16:32
| | | | |
| --- | --- | --- | --- |
| Introducing iRig PRO - audio/MIDI interface | | | |
Written by iKMultimedia
Friday, 06 September 2013 16:19
The all-in-one audio/MIDI interface that fits in your pocket.
The only Interface you need for making music on the go.
Wouldn't it be great to have one compact portable interface for your iPhone, iPad or Mac that you could use to connect your studio mics, your guitar or bass, your keyboards and your MIDI controller, and play, practice and record on the go? Ta Da! Now you can with iRig PRO.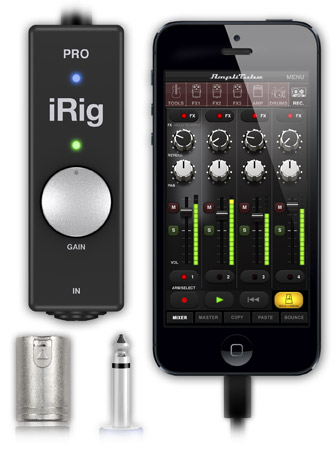 iRig PRO is the first full-featured compact audio and MIDI interface you can use with your XLR microphones, your guitar and bass, your keyboard or other line-level source and your MIDI controllers. It features an XLR/1/4" combo jack for connecting microphones and instruments (accepts XLR and 1/4" TS cables), and features the same MIDI connectivity and controls found in our iRig MIDI interface.
Now when you're on the go, you can record vocals, harmonies, acoustic instruments, electric guitar/bass, keyboards and more without changing your interface and disrupting your creative flow. You will find iRig PRO to be the most versatile iPhone and iPad accessory in your gig bag. And when you get back to your Mac, plug iRig PRO into your USB port and keep jamming away on your laptop or desktop.
Compact
You'll be amazed by the compact design of the unit and what it actually delivers. About the size of a travel tube of toothpaste, iRig PRO fits nicely into small spaces like your gig bag, the accessory compartment of your hardshell case or the side pocket of your cargo shorts. Just don't forget about it and run it through the laundry.
Multiple personalities, universal connectivity
iRig PRO can handle all of your stuff, from XLR condenser mics to balanced 1/4" TRS instrument cables for your keyboards and MIDI input. Whatever you're connecting to your device, iRig PRO has you covered. And iRig PRO comes with 3 connector cables: Lightning, 30-pin and USB, to ensure that you've got the right connections.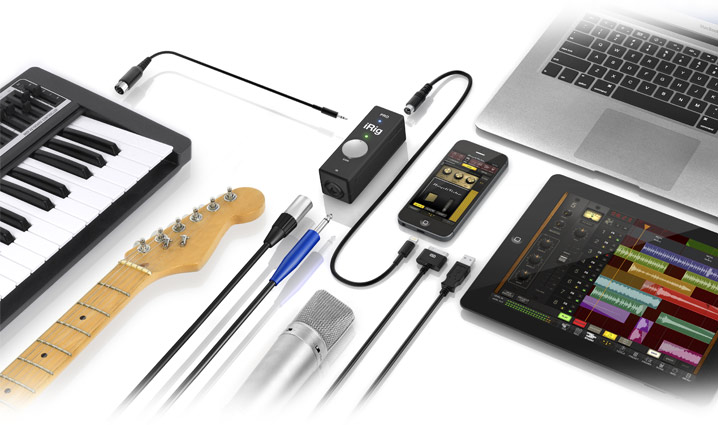 Read more...
| | | | |
| --- | --- | --- | --- |
| VOX Announces The Night Train G2 Amplifiers | | | |
Written by Vox
Friday, 06 September 2013 10:52
Night Train G2 - the next generation with extreme looks, power and versatility! A versatile amplifier lineup that will thrive in any music scene. Distinctive within the VOX amp lineup for its metallic mirror-finish exterior, the Night Train series provides an easy way to enjoy VOX's traditional full-tube sound even in small private spaces, and now it's been powered-up in a big way. High-quality reverb is a new addition on all models, making this the only unit you need to complete your sound.
Night Train NT50H-G2 & V212NT-G2 Cab
This powerful, all-tube 50-Watt head offers two channels for traditional and high-gain sounds. Robust all tube sound with class AB design; the pre-amp is driven by three 12AX7 tubes, while the power amp contains two EL34 tubes. Also available is the V212NT-G2 cabinet; a perfect match in both looks and sound.
Night Train NT15H-G2 & V112NT-G2 Cab

A 15-Watt, all-tube guitar amplifier head offering both classic and new VOX tones in a compact, portable, design. Robust all tube sound with class AB design; the pre-amp is driven by three 12AX7 tubes, while the power amp contains two EL84 tubes.
Night Train NT15C1 Combo Amplifier
Equipped with a Celestion greenback speaker it delivers uncompromising full-tube sound. It's a distinctive combo amp with the eye-catching "All Tube Legacy" badge that guarantees this unit to be a full-tube amp built in the VOX tradition.
Also available
Lil' Night Train & V110NT Cab
The Lil' Night Train; at under 3 kilograms, it take portability to an all new level! The Lil' Night Train Set comes complete with the V110NT cabinet, offering a 10-inch Celestion VX speaker and a perfect cosmetic match for your Lil' Night Train head.
| | | | |
| --- | --- | --- | --- |
| Korg LP380 Piano Now Available in Red! | | | |
Written by Korg
Friday, 06 September 2013 10:46
Elegance and tremendous piano sound, now with a splash of color! The limited edition LP380 in an eye-catching red finish will be available at select retailers in November, 2013.
Authentic grand piano experience in a slim design that adds style to your home
The LP-380 provides brilliant piano sound in a low-profile, slim design. The flat-top cabinet looks stylish even when the key cover is closed. The high-output amplifier and speakers accurately reproduce a realistic piano sound, while Korg's flagship RH3 keybed enables expressive performances.
Product Features

Slim and stylish design

Rich, dynamic acoustic piano sounds that are enjoyable to play

High-output amp section produces plenty of volume

RH3 (Real Weighted Hammer Action 3) keyboard

Reduced chassis, package size, and weight

Three-pedal design with half-damper support

High-quality musical instrument produced by expert craftsman in Kyoto, Japan

Stylish design
The LP-380 is a digital piano that's designed with a style to match your interior décor. Merely 26 cm in depth, it's slim enough to fit anywhere. The wooden key cover is flat on top, allowing the instrument to blend elegantly into your room when you're not playing it. Keeping safety in mind, the cover uses a soft landing mechanism to ensure that it closes gently. The slim and stylish chassis projects a sense of stability. The RH3 keyboard, three pedals, and large-diameter speakers ensure a superb piano-playing experience and rich piano sound. Choose from two colors to match the atmosphere of your room: black or white.
| | | | |
| --- | --- | --- | --- |
| FL Studio Groove For Windows 8 | | | |
Written by Image Line
Thursday, 05 September 2013 09:10
Designed for both production and live performance, this features a 10-pad sample-based drum machine and five polyphonic synth channels. There's a piano roll, mixer and effects, and you can create both loops and complete songs. Most parameters can be automated.
The app runs on Windows 8 and Windows 8 RT compatible devices (x86, x64, ARM processors) and is currently available for the discounted price of $4.99 on the Windows App Store. This price will rise to $11.99 at the start of October.
| | | | |
| --- | --- | --- | --- |
| Novation Launch Control Released | | | |
Written by Novation
Thursday, 05 September 2013 09:04
If you're a Novation Launchpad user who's always fancied having just a few more knobs and buttons to play with, the company's new Launch Control could be for you.
Designed as a companion for the Launchpad, this compact controller brings six assignable knobs, eight three-colour launch pads, and four function keys to the party.
Of course, Launch Control can also be used on its own, both with your Mac/PC setup or an iPad (it's fully compatible with the Launchpad app). Specs are below – expect to see it in stores soon priced at $99.
Novation Launch Control features
Compact control surface with 16 knobs and eight three colour launch pads
Perfect partner for Novation's Launchpad, Ableton Live and FL Studio - plug and play with the built-in mappings, create your own and MIDI-learn parameters
Integrates perfectly with the Launchpad app for iPad - control volumes and filters with the knobs, and trigger FX and clips with the pads
Tough, portable and bus-powered - even from an iPad
Eight factory templates and eight user templates allow you to create and save your own control setups
Comes with Ableton Live Lite - the music production software used by countless leading artists to produce and perform - and an extensive Loopmasters sample pack
| | | | |
| --- | --- | --- | --- |
| SensoriaPro 26-29 September 2013 tickets are on sale now. | | | |
Written by Sensoria
Thursday, 05 September 2013 08:24
Sensoria is the UK's festival of film and music. Sensoria's natural home is Sheffield – a city renowned for its creative and technical innovation and one rich in musical heritage. The festival has risktaking and innovation at its core – it is informal and informative; Sensoria loves to provide access, raise aspiration and work to encourage new talent on an ongoing basis.
27 September 2013
Electric Works, Sheffield
SensoriaPro tickets are on sale now..
Line up includes:
Gavin Friday - in conversation about his film and media compositions, including involvement with In the Name of the Father, Romeo + Juliet, Moulin Rouge plus Blood Rising and Anton Corbijn documentaries.
Chris Watson – an illustrated talk (using 4-channel surround sound) by one of the world's leading recorders of wildlife and natural phenomena, Chris will talk about his field recordings for the major installation 'Inside The Circle Of Fire'.
Nitin Sawhney – in conversation about his latest album ONE ZERO, which was recorded direct-to-vinyl.
Record Labels
An informal look at how record labels work – including developing talent and marketing artists.
Korda Marshall (Infectious Music)
Merida Sussex (Stolen Recordings) & Leeroy Powell (Itchy Pig Records).
Scoring Contest & Sync Panel
Sensoria are pleased to announce the return of the Scoring Contest – an exciting opportunity for SensoriaPro delegates to score music to a new film trailer with the chance to have their submission critiqued on the day by a panel of industry experts and music supervisors including;
Ian Neil (Director of Music for Film & TV / Sony Music)
Heather Kreamer (Create Advertising)
Michelle Stoddart (Synchronisation & Digital Media / Kobalt Music Group)
John Robb investigates.…..Music Blogs
With Luke Turner (The Quietus), Michael Hubbard (musicOMH) & Ruth Barnes (The Other Woman).
Music Publishing (hosted by MPA)
This session will focus in on the use of music in film and other media from the perspectives of writer, publisher and client.  
Sarah Liversedge (BDi Music), Simon Anderson (Audio Network), Tara Austin (Ogilvy), Ed Poston (BMI) & Stuart Worthington (chair)
Free lunch provided!
Still plenty more to be announced too…
sensoriapro2013.eventbrite.com
TICKETS AVAILABLE – BOOK NOW:
Full Price £80 (inc VAT)
Affiliate £72 (inc VAT) *
Concessionary £48 (inc VAT)**
Yorkshire-based company £48 (inc VAT)
Yorkshire-based company Concessionary £36 (inc VAT)**
* Affiliate rates available for paid-up members of AIM, BASCA, BPI, MPA, AIF, PRS for Music, FAC, PPL, Screened Music Network, MMF, PCAM, MPG, & Musicians Union.
* Concessionary passes are available to full time students and those claiming state benefits. Proof of status must be provided at the registration desk on the day.
The discounted rate is non-refundable and non-transferable.
Discounted rate offered for group bookings of 8 people or more – please contact  This e-mail address is being protected from spambots. You need JavaScript enabled to view it
Last Updated on Thursday, 05 September 2013 08:27
| | | | |
| --- | --- | --- | --- |
| Hawkwind star honoured at awards | | | |
Written by Hawkwind
Thursday, 05 September 2013 08:03
Dave Brock, of space rock veterans Hawkwind, has been honoured with a lifetime achievement award at the annual Progressive Music Awards.
The 72-year-old Devon-based musician, the only original member of the group, said it was a "great honour".
Other winners at the Kew Gardens ceremony, included Marillion, who were named band of the year.
The event, now in its second year, was hosted by BBC Newsnight presenter, and prog rock fan, Gavin Esler.
One of the world's longest-running groups, Hawkwind have undergone countless changes of personnel and musical styles.
Along the way, there have been astounding stage spectacles - notably the lavish Space Ritual tour - legal battles, bust-ups, reunions, and the untimely deaths of several members.
Former members and collaborators include Motorhead's Lemmy, science fiction writer Michael Moorcook, ex-Cream drummer Ginger Baker and the late guitarist Huw Lloyd Langton.
After picking up the lifetime achievement award, Brock said: "It's a hard business to be in, with many ups and downs, but I consider music to be an art form. So come on, you young pioneers, there is plenty of room for change in our music world."
Hawkwind, best known for songs such as Silver Machine, Urban Guerrilla and Master of the Universe (used in a recent Ford car advert), released their 27th album Onward in 2012.
Others honoured at the event - organised by Prog Magazine - included Jethro Tull's Ian Anderson, who was named "prog god" and guitarist Steve Hillage, who has played with Gong and System 7, who won the "visionary" award.
Jerry Ewing, editor of Prog Magazine, said: "From household names who've sold millions of albums to newer talent who we hope to see emulate their heroes with whom they've been sharing the room this evening.
"It all goes to show that in it's many varied guises, progressive music remains the most compelling of rock genres."
The full list of winners is on the Prog magazine website.
| | | | |
| --- | --- | --- | --- |
| Ministry of Sound sues Spotify | | | |
Written by Spotify
Thursday, 05 September 2013 07:51
Dance record label Ministry of Sound is suing music streaming service Spotify, claiming Spotify playlists copy its compilation albums.
Ministry of Sound regularly releases collections of dance hits.
The compilations are not on Spotify, but the label says Spotify infringes copyright because some users' playlists mirror the albums' track listings.
Ministry of Sound said "a lot of research goes into" creating the compilations. Spotify did not comment.
"What we do is a lot more than putting playlists together," Ministry of Sound chief executive Lohan Presencer told The Guardian.
"A lot of research goes into creating our compilation albums, and the intellectual property involved in that. It's not appropriate for someone to just cut and paste them."
Read more...
| | | | |
| --- | --- | --- | --- |
| Apple's Loc Pro X Has Arrived! | | | |
Written by Apple
Thursday, 05 September 2013 07:38
Logic Pro X introduces an advanced yet intuitive new interface designed for pro musicians, a ton of inspiring new plug-ins and sounds, and more powerful tools that keep the creative process flowing.
Logic Pro X has more than just a new look — it gives you new options you've never had before. You can work the way you always have, with the full power and depth of Logic Pro. Or if you're exploring ideas, you can choose to work with a more streamlined set of controls to keep things moving. Now you can personalise Advanced Tools to match how you work, so your workflow matches your creative flow.
The new design also makes it easier to get things done. Transport controls are now located at the top of the main window. You can easily browse and add more sounds from the Sound Library, conveniently placed next to other track-related controls. Visual snap guides help you quickly align and edit regions. A more responsive, more accurate tuner is just a click away. And Autosave keeps all your work safe and sound. Want to know how something works? Just hover your cursor over any part of the interface for Quick Help tips. To dive deeper, pull up the relevant section of the user manual with a single keystroke.
For more information click here Logic Pro X
«
Start
Prev
1
2
3
4
5
6
7
Next
End
»
Page 1 of 7
Copyright © 2013 Yamaha Forums UK. All Rights Reserved.