| | | | |
| --- | --- | --- | --- |
| Michael Dunford of Renaissance Passes Away | | | |
Written by Saul
Thursday, 06 December 2012 08:25
Michael Dunford, musical composer and guitarist of the progressive rock band Renaissance passed away on Tuesday, November 20, 2012. He had just returned home from the first leg of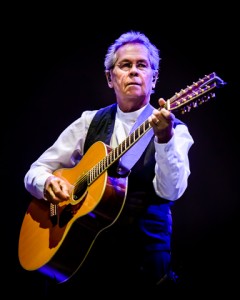 the band's North American tour and suffered a massive Instantaneous Cerebral Hemorrhage while dining at his home in Surrey, England Monday night. He was rushed to hospital where doctors declared his condition irreversible and terminal. He passed away at 11:06 pm GMT, surrounded by his family without having regained consciousness.
The reclusive and soft-spoken composer, a mainstay in the world of progressive rock, was born, raised and educated in Surrey. His first job was selling clothing in a local shop followed by a stint as an airside driver at Heathrow Airport which enabled him to form a "skiffle" group which lead to his first rock band called Nashville Teens in the early 1960s. Nashville Teens reached #6 on U.K. singles charts with their version of Tobacco Road. On leaving them, he formed several other bands including The Pentad and The Plebes. One night he went to see the original band Renaissance perform locally and ended up joining them in the early 1970s. The original band members were Jim McCarty, Louis Cennamo, John Hawken, Keith Relf and Jane Relf.
| | | | |
| --- | --- | --- | --- |
| Dave Brubeck: Take Five jazz pianist dies | | | |
Written by Admin
Wednesday, 05 December 2012 20:53
Pioneering jazz pianist and composer Dave Brubeck has died, aged 91.
The musician, whose recordings included Take Five and Blue Rondo a la Turk, was once designated a "living legend" by the US Library of Congress.
He died on Wednesday morning in hospital in Connecticut, his manager Russell Gloyd told the Chicago Tribune newspaper.
The musician, who toured with the likes of Duke Ellington and Ella Fitzgerald would have turned 92 on Thursday.
Mr Gloyd said Brubeck died of heart failure after being stricken while on his way to a cardiology appointment with his son Darius.
Neil Portnow from The Recording Academy called Brubeck "an iconic jazz and classical pianist" and "a great legend".
He said the musician "showed that jazz could be artistically challenging yet accessible to large audiences".
Jazz standard
Brubeck enjoyed phenomenal success with The Dave Brubeck Quartet in the 1950s and '60s, selling millions of albums.
Their 1959 album, Time Out, was significant for its use of uncommon, complex time signatures - influenced by the pianist's classical training.
The record spawned Take Five, the biggest-selling jazz single of all time - and used as the theme tune to several TV programmes throughout the years, including Channel 4's Secret Life of Machines, and NBC's Today programme.
It was, however, the one track on the album not written by Brubeck himself, having been composed by his long-time saxophonist Paul Desmond.
The song was a staple of the band's live set for the rest of their careers, with each musician leaving the stage one at a time after their respective solos, until only drummer Joe Morello was left.
Read more...
| | | | |
| --- | --- | --- | --- |
| Nektar announce Panorama P6 – 61 note USB MIDI controller for Reason | | | |
Written by Nektar
Thursday, 29 November 2012 18:38
Nektar announce Panorama P6, a 61 note USB MIDI controller keyboard with the same deep Reason integration as their acclaimed Panorama P4. Panorama P4 first shipped in June 2012 and has already become a favorite among Reason users who are looking for great integration with hardware and workflow that allows uninterrupted creative freedom.
Like the P4, the Panorama P6 features 4 modes that allow the user to switch between Mixer, Instrument and Transport mode and a 4th Internal mode with 20 user presets each configurable for control of external hardware, ReWired DAW's or other software.
A motorized fader, solo and mute buttons give channel control in every mode as does the extended transport buttons with no less than 11 functions a button push away. 16 encoders, 9 faders and 9 LED buttons do most of the controlling with parameters and values displayed on the TFT display. All assignable buttons including the 11 function keys and 12 pads can be setup to send MIDI messages or QWERTY macros, a unique Panorama idea where up to 8 computer keyboard shortcuts can be sent with just one button press. In addition the Panorama P6 features a 61 note velocity sensitive semi-weighted keyboard with after touch, pitch bend, modulation wheel, MIDI out, foot switch and expression pedal sockets.
Panorama P6 also includes important improvements and additions such as:
•    Re-designed Kong, ReDrum and Dr OctoRex interfaces for improved beat creation including colored graphic pads on the TFT display and drum parameters selectable by hitting the corresponding pad.
•    Kong pad 1 can now be triggered via the foot switch socket.
•    New mixer channel signal indicators show if a signal is present for any of the 8 channels visible on Panorama's Mixer view.
•    Improved Transport mode with icons showing status for click, Q-record, cycle and pre-count. A button for quantize has also been added along with some re-organization that eliminated the need for another menu level to access some functions.
•    A unique Looper addition to Transport mode. With the looper active the pads act as an array of loop markers automatically set across a Reason song at an adjustable loop length. Hitting a pad will move Reason's Left and Right locator points to the positions corresponding to the pad. Pressing Panorama's "Go to Left marker" button will immediately move playback to the new position. The Looper is a great way to navigate Reason while building up a composition from Panorama but also allows for real-time performances or on the fly experimenting with the organization of Reason songs.
•    New Randomize function. Inspired by Reason's own ability to randomize loop devices such as Matrix and ReDrum, this function now allows the randomization of device parameters that are currently in view on Panorama's display. Whether it's Thor's sequencer, Subtractor's filter or oscillator section or any of the supported Rack Extensions, Panorama will provide alternative inspiration when an extra boost is needed.
•    Formatting of Reason parameter values that are not formatted by the application including EQ and Dynamics parameters.
•    Instant view of F-keys assignments when the F-keys shift button is pressed.
•    Increased pad sensitivity so the pads can be triggered with the lightest of touch.
•    Presets and map changes assignable to any button so it's possible to recall any given preset or map at the push of a button. Options for assigning next or previous are also available with the new default assignment of the Patch- and Patch+ buttons carrying out this function.
•    Secondary encoder curve assignment to be triggered by the PB-buttons. This allows immediate switching between an acceleration curve and a new linear option.
In addition Panorama is regularly updated to include support for the latest Reason Rack Extensions. A Downloadable update containing all the additions and improvements will be available to existing and new registered Panorama users from mid December 2012.
Price and Availability
Panorama P6 is shipping in December 2012 at a MSRP price of USD 659.99 / Euro529.99 / GBP419.99. Nektar anticipate a street price of USD599.99 / Euro479.99 / GBP369.99.
| | | | |
| --- | --- | --- | --- |
| IK Multimedia and Apple Store London Event | | | |
Written by IK Multimedia
Tuesday, 27 November 2012 08:23
Apple Store Covent Garden in London, UK is staging an interactive session on how to record and amplify your voice and guitar with your iPhone, iPad and iPod touch, with a little help from IK Multimedia's iRig PRE and iRig STOMP.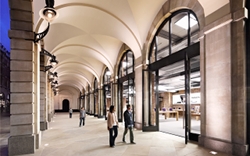 This event will be held on Thursday November 29th, 2012 at Apple Store Covent Garden No. 1-7 The Piazza London, WC2E 8HA from 6:00pm to 7:00pm. You will be shown how easy these products are to connect to your iOS device and microphone or guitar, and show you how to create great music.
Apple recommends using iRig PRE to unleash the full power of Apple's GarageBand app – record vocals, acoustic guitar, piano or any other instrument.
Apple recommends iRig STOMP for guitar and bass players looking to use their iPhone live or with their existing gear. And they add: "iRig STOMP isn't just for guitarists – it's also a great way to connect your iPhone or iPad to a PA or mixer for use with any kind of music creation app."
| | | | |
| --- | --- | --- | --- |
| IK Multimedia Black Friday Deals...until the end of November! | | | |
Written by IK Multimedia
Thursday, 22 November 2012 17:03
Sure, everyone and their brother has Black Friday deals, but we've got a sale that may literally knock your socks off. Not only are we offering radical price reductions on some of our most popular products, but our promo – called "Black Vintage Classics," for reasons that will become evident – is not just a one-day Black Friday sale. We're offering these savings from now through November 26th. Have we gotten your attention? If so, go to www.ikmultimedia.com for more details

Last Updated on Thursday, 22 November 2012 17:05
| | | | |
| --- | --- | --- | --- |
| Special 50% offers on KOMPLETE Instruments and Effects, MASCHINE Expansions, and TRAKTOR PRO 2 | | | |
Written by Native Instruments
Thursday, 22 November 2012 16:58
Berlin, November 22, 2012 – Native Instruments today launched a 50% off Thanksgiving sales special. From November 22 until November 26, KOMPLETE Instruments and Effects, MASCHINE Expansions and TRAKTOR PRO DJ software are on sale for 50% off their original price. iMASCHINE is also specially priced at $0.99 / 0,89 € – an 80% savings.
The world of KOMPLETE offers users a vast range of instruments and effects for modern music production. Customers can now get various stars from the KOMPLETE range for half price, including pristinely sampled instruments such as The ABBEY ROAD DRUMMER Series, THE GIANT, the cinematic DAMAGE and EVOLVE libraries, and the SCARBEE range of electric pianos and basses. An unmatched selection of synthesizers such as MASSIVE, REAKTOR, and RAZOR and studio effects like the PREMIUM TUBE SERIES and SOLID MIX SERIES give producers across all genres professional, innovative, and inspiring tools. The new KOMPLETE generation integrates seamlessly with MASCHINE, providing direct access to instrument parameters from within the MASCHINE browser.
MASCHINE Expansions are sound packs created to expand the sonic palette available to MASCHINE users. Expansions such as CONANT GARDENS, RAW VOLTAGE, and VINTAGE HEAT come complete with perfectly-matched sounds, samples, patterns, and projects, letting users create complete tracks without the need for additional sounds. DROP SQUAD, the very latest MASCHINE Expansion, also features custom presets for MASSIVE – the powerful synthesizer included free with the purchase of MASCHINE.
iMASCHINE is an intuitive beat sketchpad for iPhone®, iPod touch®, and iPad®. Portable, flexible and easy to use, iMASCHINE is ideal for developing song ideas on the go. All projects can be exported to MASCHINE for further production and final tweaking.
TRAKTOR PRO 2 is NI's flagship DJ software, offering DJs maximum creative potential. DJs have access to up to four decks, plus innovative Remix Deck™ technology. More than 30 studio quality effects and a loop recorder are also included for powerful remixing options. The latest version of TRAKTOR PRO 2 also features the new Flux Mode and Macro FX. Flux Mode tracks the time elapsed during complicated scratch and effect performances, and returns to the track at exactly the right point – as if the song had been playing in the background. The 11 Macro FX have been designed according to classic DJ workflows, mapping complex effect performances onto a single knob on TRAKTOR hardware controllers. Customers can purchase TRAKTOR PRO 2 for $44.50 / 39.50 € during the sales special – a very special value on this powerful DJ software.
From Nov 22nd until November 26, 2012, KOMPLETE Instruments and Effects, all MASCHINE Expansions, and TRAKTOR PRO are available for 50% off. iMASCHINE is available from the Apple App Store for $0.99/0,89 €.
This special offer is valid from 11:00 (CET) on November 22, 2012 to 24:00 (CET) on November 26, 2012, while stocks last. The special offer is not valid on iMASCHINE Expansions, accessories, bags, or NI Wear, KOMPLETE AUDIO 6, GUITAR RIG 5 KONTROL, RIG KONTROL, MASCHINE, MASCHINE MIKRO, KOMPLETE 8, KOMPLETE 8 ULTIMATE, KOMPLETE ELEMENTS, SESSION HORNS, ACTION STRINGS. Not valid on TRAKTOR products except for TRAKTOR PRO 2. iMASCHINE is available from the Apple App Store. All other offers apply to the NI Online Shop only. Note that according to our terms and conditions, e-vouchers cannot be used in conjunction with special offers.
Additional information on this offer is available at:
www.native-instruments.com/3coursedeal
| | | | |
| --- | --- | --- | --- |
| Alesis Fusion Hollow Sun FreePacks Added To Downloads | | | |
Written by Saul
Saturday, 17 November 2012 17:43
Many thanks to Steve at Hollow Sun for allowing YamahForums to host the large number of FreePacks he made for the Alesis Fusion synth. Also thanks to Chris (Parametric) for taking the time to upload them to the site.
As its name suggests, the Fusion 6HD workstation fuses the best elements of sampling, synthesis, and hard disk recording in an all-in-one powerhouse workstation. Although now discontinued it is still one of the most powerful synths ever made.
HOLLOW SUN has worked with many of the major manufacturers including Akai, Alesis, Bela-D Media, Korg, Novation, Roland and others and offers an extensive range of professional and affordable sampler sound libraries for convenient direct download at very reasonable prices.
The Hollow Sun freepacks can be found by clicking on downloads in the main menu and then the Alesis Fusion category. No registration is required and the files are available to all.
Last Updated on Saturday, 17 November 2012 17:54
| | | | |
| --- | --- | --- | --- |
| Nektar Panorama adds new Rack Extension Control | | | |
Written by Thomas Wendt
Monday, 05 November 2012 14:15
The Panorama P4 Rack Extension update is available now
Glendale/ California, November 2nd, 2012 (ictw) – Nektar today announce the release of Panorama P4 support for 14 new Reason Rack Extensions, taking the total of supported RE's up to 38 in total. The Panorama P4 has quickly become known as the ultimate keyboard controller choice for Reason users and the most complete integrated controller experience on the market. For musicians who are looking for advanced control and integrated workflow, Panorama is the instrument that makes Reason playable like a hardware keyboard workstation. This new release now further cements this position and shows Nektar's continued dedication to the Reason platform.
The list of the 14 newly supported RE's includes:
DR-1 Deep Reverb  by  Synapse Audio
Uhbik-A  by  U-He
Echobode by Sonic Charge
Renoun by Unfiltered Audio
ReStereo by Numerical Sound
Shelob by Jiggery Pokery
Env Shaper by FXpansion
Uhbik-Q by U-He
VoltCB1 by Zvork
Uhbik-F by U-He
Yoko by Unfiltered Audio
Glitch by Ochen K.
PredatorRE by Rob Papen
Probability Drum Trigger by Ochen K.
Read more...
| | | | |
| --- | --- | --- | --- |
| Native Instruments introduces PREMIUM TUBE SERIES | | | |
Written by Native Instruments
Thursday, 13 September 2012 14:43
Berlin, September 13, 2012 – Native Instruments today introduced a new collection of high-end effects, capturing the warm, natural sound of tube-driven hardware. PREMIUM TUBE SERIES is made up of three individual effects – PASSIVE EQ, VARI COMP and ENHANCED EQ – available either individually or as a high-value bundle. PREMIUM TUBE SERIES makes these effects available for the first time as native plug-ins that run individually within a DAW in VST, AU, RTAS or AAX format. The effects are modeled by Softube, the renowned team behind Native Instruments' VINTAGE COMPRESSORS.
PASSIVE EQ is a fully-parametric, two-channel, four-band equalizer, with additional high and low pass filters plus a wide collection of presets for all use cases. Characterized by its versatile nature and natural sound, it is well suited to a wide range of production duties – from individual tracks to sub groups and even mastering. As with all the effects in the series, running as an individual plug-in in any DAW gives it significant ease-of-use advantages over hardware units, such as built-in parallel processing options, and mid/side mode.
As its name suggests, VARI COMP is a compressor with a flexible range of use cases, from instrument groups to individual tracks. Emulated to possess a clear and warm 'analog' sound, VARI COMP limits and compresses. In limit mode, it uses a unique automatic ratio and knee adjustment, altering the compression ratio from 4:1 up to 20:1 automatically in response to the input signal.
ENHANCED EQ is an easy-to-use effect adept at providing tracks with both subtle definition and rich loudness. Modeled from a boutique studio standard, this is the EQ for adding warmth and weight to the low end of individual tracks, thanks to a special curve produced by simultaneously cutting and boosting the low frequencies. ENHANCED EQ works equally well at adding clarity and shine to midrange.
The PREMIUM TUBE SERIES bundle is available at the NI Online Shop for $229 / 199 EUR. The individual effects can also be bought separately: PASSIVE EQ $169 / 149 EUR, VARI COMP $119 / 99 EUR, ENHANCED EQ $79 / 69 EUR.
Additional information on the PREMIUM TUBE SERIES is available at:
www.native-instruments.com/premiumtubeseries
Last Updated on Thursday, 13 September 2012 14:44
| | | | |
| --- | --- | --- | --- |
| The New Mini Nova From Novation | | | |
Written by Saul
Thursday, 06 September 2012 10:29
MiniNova is a compact, super-cool studio and live syn18 voices, th with the same sound engine as its big brother; UltraNova. It comes with 256 incredible onboard sounds that you can tweak with five knobs, or totally warp with eight 'animate' buttons. It has up to 18 voices with as many as five synth effects on each sound. MiniNova also has an onboard VocalTune™ effect as well as a classic vocoder so you can recreate iconic vocal sounds from hip hop, urban and electronic music.
| | | | |
| --- | --- | --- | --- |
| Apogee Announce Quartet Desktop interface For Mac | | | |
Written by Saul
Thursday, 06 September 2012 10:16
Meet Quartet
The ultimate desktop studio interface and control center for Mac
Apogee Quartet is a professional USB audio interface designed to deliver the ultimate desktop recording experience to the Mac-based studio. Featuring 4 inputs and 8 outputs of Apogee's industry-leading AD/DA conversion technology as well as 4 world-class mic preamps, Quartet bridges the gap between the 2-channel Apogee Duet and the 8-channel Apogee Ensemble.

Highlights
Best-in-class sound quality with Apogee AD/DA converters
4 Analog Inputs with world-class mic preamps
Monitor control - up to 3 speaker sets
USB 2.0 High-speed Mac audio interface
ADAT/SMUX digital Inputs
MIDI input (USB-A type connector)
8 Analog Outputs:

6 Balanced line outputs, +20 dBu maximum output level
1 Independent 1/4" stereo headphone output

2 top panel high-resolution OLED displays
Controller knob
6 touchpads for direct selection of inputs and outputs
3 assignable touchpads
Quartet works with any Core Audio compatible application including: Logic, Pro Tools 9 and 10, Final Cut. Ableton Live
Made in the U.S.A.
«
Start
Prev
1
2
3
4
5
Next
End
»
Page 1 of 5
Copyright © 2013 Yamaha Forums UK. All Rights Reserved.